Above: C. V. Starr East Asian Library
Left: Berkeley circa 1900
About EALC
East Asian Languages and Cultures is the core department for East Asian Humanities on campus, and home to the Chinese, Japanese, Korean, and Tibetan language programs, offering over one quarter of the total languages courses on campus. As the campus center for research in the literatures and cultures of East Asia, our mission is not only to train students to understand the texts (visual and aural, as well as written) at the core of its literary, religious, and philosophical traditions; we also aim to produce research on the cultures of East Asia that enters into dialogue with innovative work being done in the Humanities on this campus and beyond.
The Department of East Asian Languages and Cultures was one of the first academic departments devoted to the study of Asia established in the United States. Its history dates back to 1872 when one of the founders of the University of California, Edward Tompkins—convinced that the future of the state and its citizens lay not in the Atlantic 'old world' but in the Pacific—presented the then four-year old institution with its first endowed chair, the Agassiz Professorship of Oriental Languages and Literature. More than a century later, the Department continues to build upon its distinguished tradition of scholarship and service as an innovative and vibrant center for the teaching and research of East Asian languages, literatures, and cultures.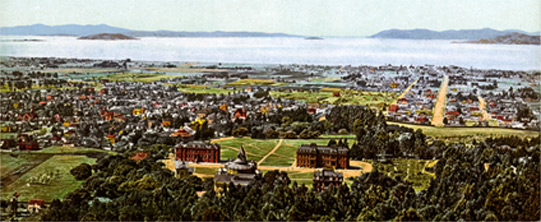 In 1901, the Department began to develop a curriculum in Japanese to complement its initial strengths in Chinese, and in 1942 became the first department in the country to offer instruction in Korean. By the 1960s—in the wake of an unprecedented expansion in the postwar era of Area Studies programs in the American academy—Berkeley and the department cemented its national preeminence in the study of East Asia, and played host to many of the most renowned modern scholars of Chinese and Japanese linguistics, literature, and cultural history.
Today, the department offers a comprehensive curriculum in the East Asian humanities for both undergraduate and graduate students that encompasses modern and classical languages, literatures, philosophies, and cultures. Faculty research and teaching interests are diverse and interdisciplinary, running the gamut from pre- modern literary and artistic expression to contemporary writing and popular cultures.
EALC is also at the center of a lively campus-wide community devoted to the study of East Asia, and EALC students benefit immensely from the expertise of over fifty Berkeley faculty members conducting research on China, Japan, and Korea in disciplines such as Anthropology, Architecture, Art History, Comparative Literature, Economics, Film, Geography, History, Journalism, Music, Political Science, and Sociology.